Whenever I go on a city trip or just on a holiday first thing I do is check out the food hotspots. Maybe a little concerning my entire holiday can evolve around food. What can I say? I just love to eat. That's why I love the idea of a food market so much. Lucky me, there's plenty of them in London. I wrote a post about Borough Market before and this place is possibly even better. I'm talking about Broadway Market, a Saturday market full of hipsters, coffee, cookies and plenty of other food.
It's not quite in the city centre of London but it's worth the trip, trust me. I went there together with my aunt and we decided to get a coffee first in this super busy place. Usually this means good coffee so while my aunt got in line I got to pick the cookies, leave that to me! There were multiple cookie stands but this one got my attention 'cause the cookies looked gorgeous. I picked one with white chocolate and lemon and one with peanut butter, chocolate, salted caramel and god knows what else was in there. At least no gluten 'cause all their cookies were gluten-free. We enjoyed our coffee (which was worth the wait) and our cookies on a bench in the sun and couldn't be more happy, what good cookies can do to you.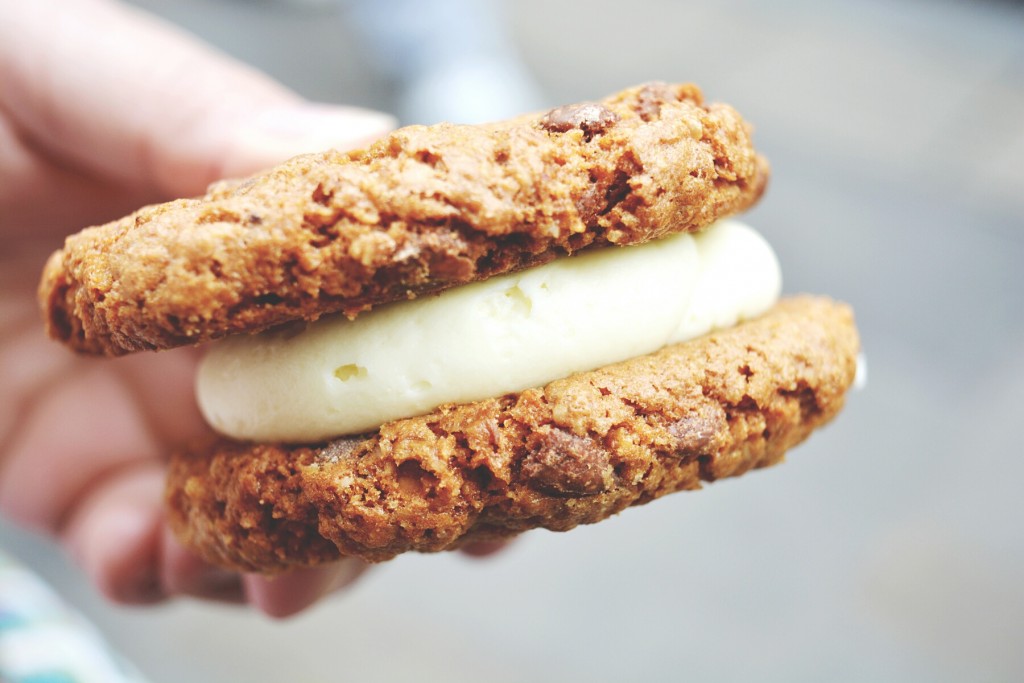 After our well deserved cookie break we started walking around the market. The atmosphere is very lovely, you might feel a little out of place when you don't have a beard or a mustache but other than that nothing to worry about! The food looked and smelled amazing and I will definitely come back to try something other than just a cookie (although..this was not just a cookie). I had to take some of the pictures in secret because the lady selling the food gave me an angry look. But I sure believe her food tastes nice.
Besides the angry lady everyone was in a great mood and you should definitely go to Broadway Market if you get the chance!
Broadway Market
Saturday 9am-5pm
London E8 4QJ