It's been a while since my latest update but that doesn't mean I didn't do anything in the mean time, quite the opposite actually! Let's start about three weeks ago, when I was invited to go to this raw wine fair in the Old Truman Brewery in Brick Lane. And when you're asked to attend a fair where basically all you do is taste as much wines as you like for free and pretend you know a whole lot about it, you can't say no can you!? So there I went on a beautiful day on my way to Brick Lane. It took me a while to find the way (thank god for the offline maps) to the brewery but after a 20 minute walk or so (could've been 10 if I was better at map-reading) I entered Brick Lane, which was AWESOME. It was about 25 degrees, the sun was out, people were making music and there was a lot of street food, just a great vibe. Such cool graffiti as well! I made a note to myself to come back here for sure (I did, you can read about it later in this post) and I continued my walk to the brewery which took me another 10 minutes to find. I had to show some emails at the entrance and give my name to get in for free since this normally costs about £30! I went by myself and since, besides the fact that it tastes good, I don't know that much about wine I had to encourage myself to walk up a trade person and ask to try something. But since the wine tasted good and the first trader I tried from kept refilling my glass it got a lot easier to walk up to people and to pretend I knew what they were talking about. I tried some Italian wines, France wines and German wines. There was also a section of France cheeses and pastries and I bought this delicious sort of brownie salted caramel pastry to eat at home. After all it was a great day and I'm glad I went. It was very nice to walk around and see that some people definitely didn't spit out their wine (me neither but I only had four..or maybe five..)
The week went by and two of my friends came over! I was so excited to see them again and we had a great weekend with a lot of cocktails (yay for happy hour!), shopping, food and sightseeing. We went to see the Big Ben, The London Eye and we stumbled across this street food festival which was so cute and where we ate this amazing sort of onion rings with mango chutney. We also had a great lunch with cake at this pretty shop in Covent Garden.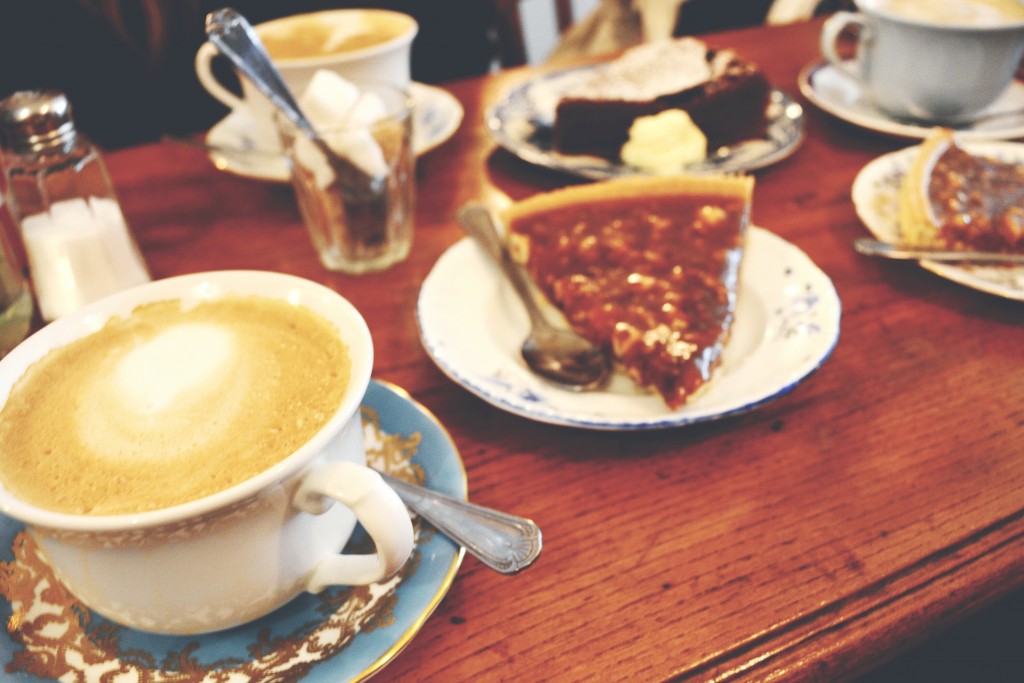 And somewhere in between this week I did such a cool thing. I went to a meeting with a propellor airplane! My boss (one of the founders of Rude Health) has his pilot's license for these kind of airplanes and since the meeting was about a three hour drive it would be quicker to go by plane, so why not!? I was such an amazing thing to do and it was a great sunny day so we had the best view over England. Very happy I got a chance to do this!
On a weekend I made some buckwheat pancakes by using the sprouted buckwheat flour from Rude Health. They turned out allright but need some finetuning so stay tuned for a recipe!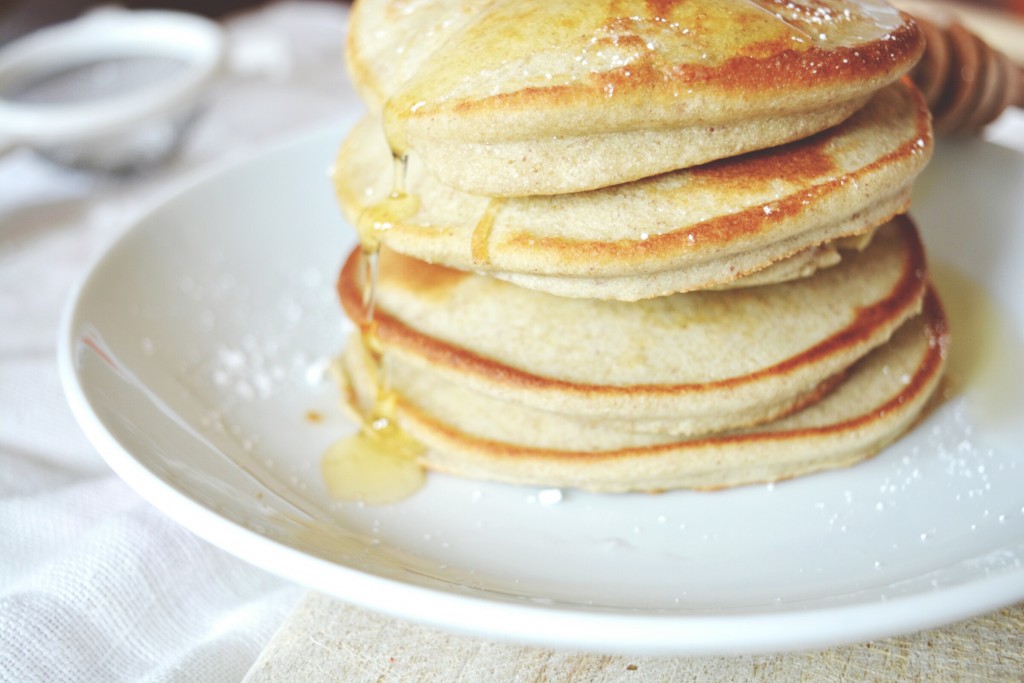 And then another week went by and my boyfriend came over again! It's been seven weeks so yeah, I was quite happy to see him again! He stayed for four days and basically it was all about food during this time, we loooove to eat. Thanks to a colleague of mine at Rude Health I knew some places to go for good food. And this food was good, i'm telling you! I made a little too less pictures (too busy eating sorry) to create a hotspot poste but nevertheless you must go to these places! The first day we went to the Bike Shed to look at some cafe racers (obviously the boyfriend's choice ;)) and then we went to 221B Baker Street (yay for Sherlock Holmes!) which turned out to be quite disappointing since you had to stand in line for at least one and a half hour just to take a picture of the door. But at least we saw it! And then we decided we were already a little hungry so we went to one of the first places on the list: Persepolis. This is a cute very tiny shop with amazing Persian food. Behind the shop there is a little restaurant and they've got the most delicious (and cheap!) meals on their menu. All vegetarian and all with those amazing Persian flavours. Another plus about this restaurant it that you can bring your own bottle! But still I would recommend to try one of their delicious smoothies or teas. We shared a big plate of mezzo to start with including humus, falafel, lentils, olives, a sweet potato dish and other delicious things I can't remember the name of. After this we shared a big wrap with amazing flavours again and a chickpea dish with garlic, spinach and breadcrumbs. It feels like you're eating at someone's home because it's so casual and comfortable. The owners have a good sense of humor too and a fun fact is the the lady (it's a married couple that own the place) Sally Butcher is the author of several books such as Veggiestan which I've got at home! Great to buy if you want to make some of these lovely meals yourself at home. I could go on and on about this place but fact is you must go there and see for yourself!
Another restaurant on the list we went to is called the Good Egg. Basically loved it already because of the name since I'm a big fan of eggs. This was another shared dining restaurant and luckily we were just in time to get a spot at the bar. This wasn't a problem at all since there was enough space and it even was a marble bar too (hello Instagram worthy pictures!). We had these pretty lagers which I basically ordered because of my soft spot for pretty packaging. But they tasted good as well! And then the food, sooo yummy. We had flatbread with yoghurt, thyme and honey, marinated aubergine with tahini and pine nuts, mujadara with green lentils & crispy onions, za'atar fried chicken with red cabbage slaw and chili honey (ordered that one twice because it was so good) and a delicious corn bread with zhoug and honey butter which was sweet and thick and tasted a little like cake hmm. And we were sooo full but couldn't resist a pistache cake with crème fraîche, since there's always room for dessert. And because we told the waiter we could't choose between the cake or the cardamom chocolate mouse he decided to give us a chocolate mouse for free to try. This was very sweet but after we finished it we could barely walk home! All I can say is go there and try as much as possible!
Besides eating we went to the V&A museum of childhood, broadway market (yes again!) and hyde park. We had a great brunch at the E5 bakehouse nearby broadway market as well, such a cool place with delicious toast! And like I said we went back to Brick Lane, where it was very busy 'cause the weather was great. We had some fresh juice for £1 and amazing roti as seen in the picture below. On our last day we had brunch in Brixton where I went with my aunt as well. But this time we went to another place called Rosie's where I had this very tasty cinnamon french toast with prosciutto, fig jam and ricotta.
So, I guess that was it. Sorry it is quite a long post with a lot of food! But since this is a food blog I guess you don't mind! Stay tuned for another update!
Persepolis
28-30 Peckham High St
London SE15 5DT
The Good Egg
93 Stoke Newington Church St
London N16 0AS