What a great place Soho is! Busy, but great. And since it's so busy it's hard to find a place to eat because a lot of restaurants could be full. My aunt and I were lucky enough to find a seat in Dirty Bones. A very cool place to eat in Kingly Court. This is a cute sort of hidden court yard and we accidentally ran into it, and oh how happy we were that we did.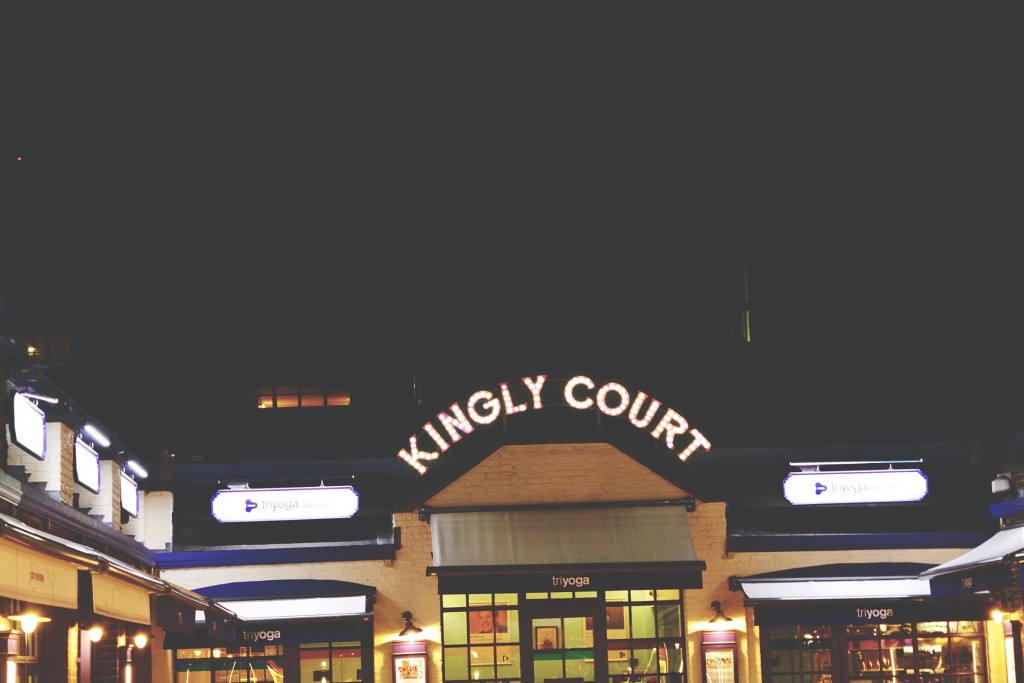 When you enter the restaurant you immediately feel the atmosphere is great. The music is pretty loud but not in an annoying kind of way and the whole place was packed. They have a sort of industrial design mixed with old fashioned lamps and very cool wallpaper. They also have some lines on the wall such as: 'cocktails & happiness' (what else do you need?) and 'food is love, cooking is foreplay'.
There are lots of cool places to eat and drink in Kingly Court like Le Bab, The Rum Kitchen and señor Ceviche. How great do all these names sound!? We decided to enter Dirty Bones and managed to get the last spot in the restaurant. We wanted to have a cocktail first and they have a lot of choice and very special ones as well. I had a Djinn Djinn including Bombay sapphire gin, Martini rosso, fresh grapefruit, raspberries, cucumber and ting. I was sooo good! Honestly one of the best cocktails I ever had. As a starter we choose to share some salt & pepper squid with chipotle aioli. I'm not always in the mood for squid but sure didn't regret our choice; this one was so tasty!
And because we were out of cocktails we decided to order another one because you definitely want to try them all. This time I went for a You Chicken!? because of course I'm definitely not a chicken and wanted to try this one with Bacardi cold rum, fresh mint & cucumber, apple juice, ginger beer and the most spectacular part: a chili salt rim!  Every time I took a sip I tasted the chili which was a very strange but nice combination.
We were getting pretty hungry so time to take another look at the menu and order some food! It's mostly comfort food on the menu and I ordered The Burger. A beef burger with black treacle bacon, gorgonzola sauce, pickled jalapeños, baby spinach and garlic aioli. When I'm typing this my mouth is actually watering. I was a little afraid the gorgonzola would overrule but it was just in perfect balance. If you ever go to Dirty Bones you just want to try one!
My overall conclusion is that this is a great place to eat some very tasty comfort food. And the staff was so nice as well! We were sitting at the DJ table because this was the only spot left and when we had to leave that table when the DJ arrived (yes, there was a DJ performing as well!) they already arranged another table for us. We couldn't stop talking about how great the cocktails tasted, I even ordered the Djinn Djinn twice because it was too good. So if you ever are in Soho, find Kingly Court and get yourself some comfort food at Dirty Bones!
Dirty Bones
Top floor, KINGLY COURT, Carnaby Street, Soho, W1B 5PW